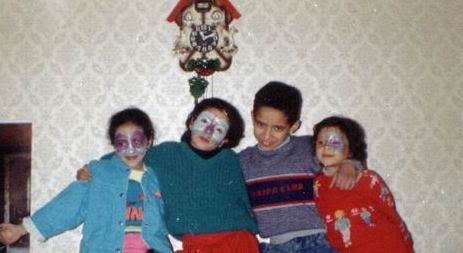 i miss me as a child though i feel i'm still a child =D i'm a big child maybe....lol
i still have most of my dolls and bears even my powerpuff gurls dolls! yeah i love them!
tht pic reminds me of some gr8 memories...i'm tht little one on the rit wearing a red strange sweatshirt lool, then the little kid is my neighbour, then my sister yasmeen wearing the dark green sweatshirt (mom made it) then the one on the left is my neighbour's sister... they were our next door neighbours we knew eachothers long long ago even b4 i was born....we were like a family spend most of our times togthers , birthdays , outtings almost everything but they just moved few yrs ago :( and wern't close as b4.
tht day in the pic was the new year...and we were celebrating at our house we did thoses cute maskas =) they were gorgeous....and we had some ballons and dicoration...then mom cooked some cool food and dad brought us some presents all of us...we also used to have a medium christmas tree with all the balls and stars on it.
it was a gr8 day with loads of fun we played played and played =D
oooh childhood.